Axe throwing is an emerging sport that's gaining popularity among people who are looking for a new way to bond with friends, family, and colleagues. Axe Throwing involves throwing hatchets at specifically selected target boards and competing against others to see who can score the most points. Not only is axe throwing fun and exciting, but it also provides a unique way to build camaraderie and find a sense of belonging.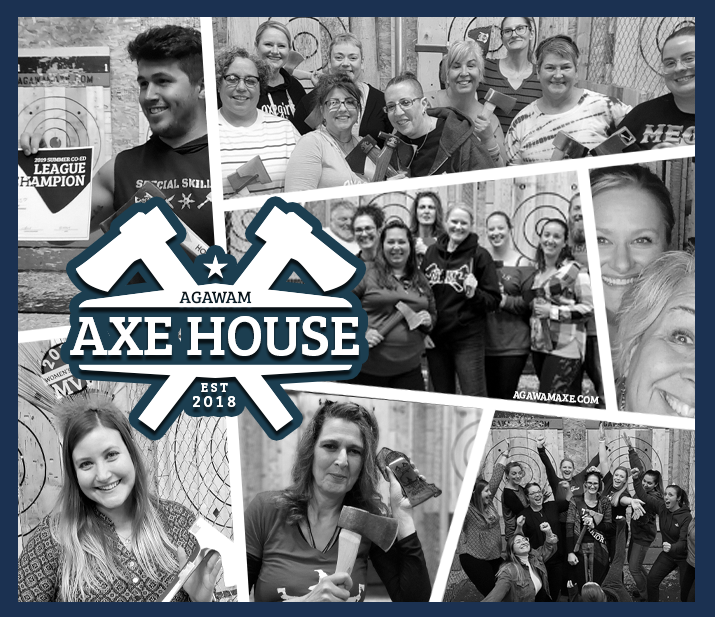 Agawam Axe House leagues. When you first start axe throwing, it can be a bit intimidating. You might feel like you're the only one who doesn't know what you're doing or like you don't fit in with the other people there. However, this is a common feeling for anyone who's trying something new. The good news is that axe throwing is a welcoming community, and you're sure to find a group of people who share your interests and passion for the sport.
One of the best ways to find your tribe in axe throwing is to attend local events and tournaments and axe throwing leagues. These events bring together fun folks from all over the area, and you'll have the opportunity to meet new people and make connections with others who are passionate about the sport. Whether you're a beginner or an experienced thrower, you're sure to find others who are at your skill level. And who knows, you might even make some new friends along the way.
are made up of a group of people who meet regularly to practice and compete against one another. They provide a supportive and encouraging environment for people to improve their skills and have fun together. Joining a league can also be a great way to meet other people who share your interests and to develop a sense of community and belonging.
Whether you're celebrating a special occasion, like a birthday or a bachelor party, or simply looking for a fun way to spend a night out, axe throwing is the perfect activity. You'll have a blast competing against one another, laughing, and creating memories that will last a lifetime.
So why not give it a try and see where it takes you?
Our Spring leagues begin in March, 2023. Registration is now open!