So now that you have your technique down, it's time to get an axe of your own.  There are so many styles and companies to choose from, so where do you get started?  I recommend checking out your local hardware store, Home Depot or Lowes.  Please note, when choosing an axe, be aware that some axe house locations have special axe requirements through WATL or IATF.  Both IATF and WATL have certain restrictions on the type of axe being used for competition.
An absolute beginner axe/hatchet is the Collins 1  1/4lb campers hatchet.  It can be found at the hardware store or online.  They are good, quality axes and they are friendly on the wallet.  Collins axes can range from $18.00 to $30.00.  Prices vary depending on the size of the axe and where you are purchasing the axe.
Collins 1 1/4lb Campers Hatchet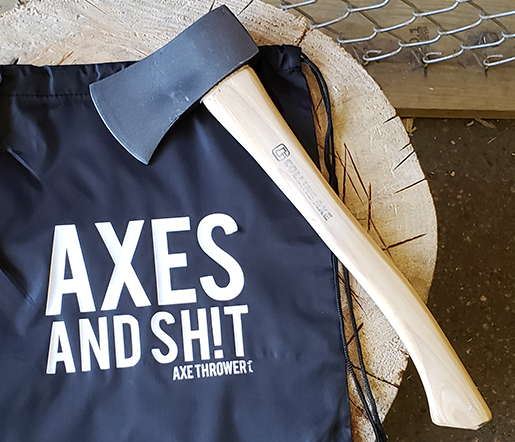 I would be remiss if I didn't mention some of the other companies that you can get throwing axes from.  Warriors Axe Throwing is a great spot to find all types of competition throwing axes.  You can also find some fun items to throw like shovels and knives.  Cold Steel offers a Competition Thrower that I have seen a few people use and rave about in our leagues.  Cold Steel also has some fun goodies perfect for throwing.   If a custom axe is more your style, we can recommend  81 Axes.  These axes are thoughtfully made and beautiful to look at.  If I were to have a Bucket List axe, it would defiantly come from 81 Axes.
So, you have some options.  Which axe will you choose?