So now that you have your technique down, it's time to get an axe of your own.  There are so many styles and companies to choose from, so where do you get started?  I recommend checking out your local hardware store, Home Depot or Lowes.  Please note, when choosing an axe, be aware that some axe house locations have special axe requirements through WATL or IATF.  Both IATF and WATL have certain restrictions on the type of axe being used for competition.  I would hate for you to get an axe, get used to it and then not be able to use it competitively.
I have used many different axes in my career and seem to accumulate more as I go (Sorry honey!).  But when it comes to competition, I have two brands I lean on, Estwing and Collins.  Both can be found at the hardware store or online and they are brands that, I feel, are especially good for beginners.  They are good, quality axes and they are friendly on the wallet.  Collins axes can range from $18.00 to $20.00 and the Estwing axes can range from $34.00 to $40.00.  Prices vary depending on the size of the axe and where you are purchasing the axe.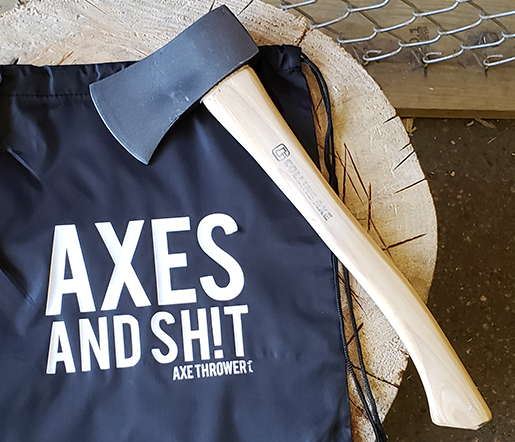 The axes that I use frequently are the Collins 18 in, 1.75 lb Hunters Axe and the Estwing 16 in, 3 lb Camper's Axe.  They are both so different but match my throwing style quite well.  I am more comfortable and consistent with a two-handed throw, so the longer handles help a lot with gripping the axe properly.  I also needed an axe that was going to keep me behind my axe house's league line.  At the Agawam Axe House, you cannot touch or cross a line that is 12in from the target for Co-Ed and 11in in Women's league.  When we first started leagues, everyone went by the 12in line.  When I first got started, I was using a much lighter, shorter axe and would stand about 11.5 in from the target.  I would have been foot fouling for league, so I had to adapt.   I won't lie to you; it took me a while to find the axe and the spot that worked best for me.  I even tried to keep my small axe and tried to get as close to the line, without foot fouling, and lean as far in as I could to get my axe to stick.  As you can probably imagine, this did not work in my favor.  Eventually, I was able to grow accustom to my bigger axes and, I'm not going to lie to you, I feel really badass sticking a big, heavy axe.  I came to SLAY!
I would be remiss if I didn't mention some of the other companies that you can get throwing axes from.  The Axe Shoppe is a great spot to find all types of competition throwing axes.  Their website is even broken down so that you can find legal axes for IATF and WATL.  You can also find some fun items to throw like shovels and knives.  Cold Steel offers a Competition Thrower that I have seen a few people use and rave about in our league.  Cold Steel also has some fun goodies perfect for throwing.   If a custom axe is more your style, I would send you in the direction of 81 Axes.  These axes are thoughtfully made and beautiful to look at.  If I were to have a Bucket List axe, it would defiantly come from 81 Axes.
So, you have some options.  Which axe will you choose?  Let me know